Special Offers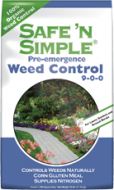 Safe 'N Simple® Pre-emergence Weed Control 9-0-0 is an all-natural plant product made from Corn Gluten, a dried protein separated from corn during the manufacture of starch in the food industry.
Valid 3/07 - 3/31/2017
Watch Our Video
Merrick | Climbing Everest
A tale of tenacity and triumph as one determined dog hunts for a comfy place to nap. One fantastic feat brought to you by Merrick, whose first ingredient is always deboned meat. Because the Best Dog Ever deserves the Best Food Ever. The Best Dog Ever deserves Merrick.